Hooray for humpday – we're halfway through the work week and halfway closer to the weekend!  And that's a good enough reason to make a pit-stop at Starbucks…  Although, I don't think you ever need a reason to go to Starbucks.
Notice how I didn't say "to go get coffee" – someone's gotta keep those darn coffee burners in business
  My dad's got Dunkin' Donuts covered [he's from the northeast where he was raised with a DD on every.single.street.corner] so I've taken the liberty of supporting Sbucks.
The other day I stumbled upon the picture above on Instagram and thought it was fabulous.  I've heard people say that the human body is like a car, but I think this picture goes beyond that comparison and takes it one step further:
food = fuel
good fuel = strength and power
Without proper fuel [i.e. nutrition] your body is running on empty.  And like a car, you body cannot function on empty.
With two more half's coming up, it's a goal of mine to do a better job of fueling my body – not just on days I have a long run, but every day.  Over the next few weeks I want to focus on giving my body everything it needs and wants.  From food to rest, I want to learn how to truly decode my body's signals.  I've got a health update planned for tomorrow so I'll save my rambles until then.  Onto my [Tuesday] eats…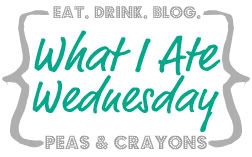 Thanks Jenn for hosting another tasty link-up!
cappuccino me, please
despite having paws and claws, Charlie has become quite the help in the kitchen – he's a great taste tester
berries & cinnamon pancakes topped with cottage cheese mixed with orchard made pumpkin butter + almond slivers
Since we're moving in less than 2 months, we're starting to use up all of our pantry perishables.  I found this jar of pumpkin butter that I got when we went apple picking in the fall hiding in the corner…  It's a tad sweet for my liking, but it pairs well with cottage cheese!
cuties – does anyone else hear this commercial when they see cuties?!
veggies topped with cottage cheese + a crumbled Dr. Praeger's California Veggie Burger
2 current cravings – pretzels & Fig Newmans
an apple & coconut cashew Quest Bar
veggie-filled salad
tortillas dipped in Greek yogurt guacamole
lentil soup
We had homemade meatball calzones on the menu for dinner but Ryan went to the movies so we opted to save them for tonight.  I'm not one to shun sodium [I love salt], but this soup was on sale and I love lentils so I thought I'd give it a shot.  Verdict?  The soup was lacking flavor but nothing a few shots of Tabasco + salt couldn't fix.  I guess that cancels out the "low sodium" stat, ha!
Arctic Zero isn't Ben & Jerry's but it was convenient while I watched Millionaire Matchmaker
Question:  What's your #1 fueling tip?

Question:  What's your favorite ice cream flavor?

— Allison