Whelp, whoops!  I meant to publish this post last night when I got home but that evidently slipped my mind.  I ate dinner, plopped down on the couch, and quickly fell asleep.  But I did have time to do this…
sorry Charlie, please forgive me – I recently discovered PicMonkey
My stomach started feeling wonky Tuesday night so I skipped my planned run and cuddled with Charlie instead.  When I woke up yesterday morning I felt a bit better but immediately after I ate breakfast it hit me again hard and I felt nauseous/freezing/sweating the rest of the day.  Today I'm "working" from home on the couch, taking it easy and resting before Sunday.
So this WIAW post is a day late [oops, I did it again] but since it's been a few days since I've posted any foodie pictures and I tried a few new-to-me products I'm sticking to it…  That said, be sure to check out all of the tasty eats and recipes the others shared yesterday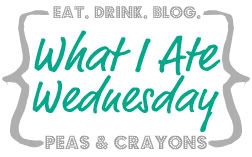 Thanks Jenn for hosting another tasty link-up!
I'm a big fan of TJ's Berry Mango Muffins but I haven't seen them on the shelf lately so I decided to give these a try and I'm glad I did!  These muffins are absolutely delicious – dense, moist, packed with whole cranberries, and hints of orange throughout.
Traditional French Toast is tasty, but Cranberry Orange Bran Muffin French Toast takes the cake!
Ingredients
2 egg whites + 1 packet of stevia + a few dashes of cinnamon
Directions
Slice the muffin into desired thickness. 
Combine the eggs, stevia, and cinnamon in a small bowl and whisk until combined. 
Dip the muffin slices into the egg mixture and coat on both sides. 
Cook the muffin slices until they're light brown and flip, approximately 2 minutes on each side. 
Serve with desired toppings and enjoy!
I typically buy spinach to toss into my salads, but after I accidentally bought a bag of spinach with arugula last week, I've been hooked.  The light and little leafy greens pack a powerful peppery punch!

lunch snacks – fresh veggies, a ruby red grapefruit, Kettle Brand Sea Salt Bakes Chips, & Willamette Valley Honey Nut Granola Chips
Dr. Praeger's California Veggie Burger + arugula + dijon mustard on soft whole wheat bread
a sliced gala apple & an Odwalla Protein Bar – this flavor reminds me of an oatmeal raisin cookie!
I love doughy carbs & salt, especially good bread & pretzels, so the two combined sounded delightful!  Unfortunately, this soft pretzel stick tasted just like soft bread.  I'd buy it again because it was less than $1 and I love doughy carbs, but it's lacking any pretzel flavor.
mashed avocado + parm cheese on a toasted pretzel stick & an Italian inspired salad with arugula + artichokes + peas + sliced mushrooms + tomato sauce + tomato basil hummus
easy-peasy & comforting microwaved popcorn
dark chocolate – gotta end the day on a sweet note!
~~~~~
A couple of weeks ago I graciously received two packages full of crunchy goodies – one box contained bags of the new Kettle Brand Bakes Chips and the other box contained bags of Willamette Valley Granola Chips.
I was first introduced to Kettle Brand Bakes Chips a few years ago when Ryan grabbed a bag of the Salt & Fresh Ground Pepper [which has since been discontinued, boo] go with our lunch sandwiches.  I'm not a big fan of traditional potato chips, they're too thin, but these chips are anything but that.  They're thick, super crunchy, and coated with flavor – I was instantly hooked!  So when Kettle Brand offered to send me a few of their new flavors I couldn't say no…
Ryan polished off the bag of Sour Cream & Onion while I was at class, but from what he said and the evidence from the empty bag, they were delicious and his favorite flavor.  We also tried Cheddar & Roasted Tomato and Sea Salt.  Out of these two flavors, Cheddar & Roasted Tomato was my favorite.
Sour Cream & Onion:  A true flavor explosion, we couldn't resist doing a Bakes-take on this fan favorite. You won't see a powder cloud when you open a bag of these, but you'll definitely be lured in by the aromas of zesty onion, garlic and parsley. One bite and the cool, tangy sour cream takes over to satisfy your taste buds. They'll make you look twice-and yes, they really are baked.

Cheddar & Roasted Tomato:  We're turning up the volume on cheese flavors with a jolt of creamy cheddar, sharp Romano and sweet roasted tomato. But why stop there? A comforting combination of onion, bell pepper, parsley and paprika join the party on a real slice of potato, lightly salted to perfection. Who said baked chips can't be indulgent?

Sea Salt:  Only three ingredients in this classic chip: potatoes, oil, and sea salt. Why mess with simplicity? The pureness of a whole potato, thinly sliced, baked to golden perfection and seasoned with fresh sea salt delivers undeniable flavor and crunch. This confident flavor isn't afraid to go head to head with the other guys either – trust us, you'll never buy those other baked crisps again.
Moving on from salty to something sweeter, Willamette Valley Granola Chips.  I had never heard of this brand or these products before, but I was informed that they're a fun new take on granola.
They're light and crispy bite-sized chips made with all natural, non-GMO ingredients, and are packed with ancient grains like barley, oats, quinoa, and amaranth, making them a good whole grain snack full of fiber…  Sounds good to me!
I'm not surprised that the Honey Nut flavor was my favorite.  I ate them by the handful straight from the resealable bag, on top of plain Greek yogurt, crumbled on top of oats, and dipped Dunkaroo style into the peanut butter jar.  Vanilla Bean took second, Wild Berry took third, and I'll have to ask this girl what she thinks of Butter Pecan.
Thanks Kettle Brand and Willamette Valley for sending me these tasty samples – I will definitely be purchasing more bags in the near future!
Disclaimer:  I was provided free products from Kettle Brand and Willamette Valley for the purpose of this review, however I was not compensated in any other way.  All opinions are my own.
Question:  Do you prefer sweet or salty snacks?
Question:  What do you typically pack for lunch?
— Allison