It's wa-wa-Wednesday!  I'm not sure why, but I've been in the best mood all week.  Maybe my endorphins are still flowing like crazy from Sunday's race?
Speaking of flowing, do y'all remember the group TLC? Rumor has it they're getting back together!  I personally was a bigger fan of the boy bands back in the day [N'Sync, specifically Lance, swoon] but I also enjoyed singing about Waterfalls…  Go, go, Jason Waterfalls. 
Haha yes, I shamefully admit that for the longest time I thought they were singing about a man named Jason Waterfall.  Humor me and someone please tell me that you did too?!
Let's keep things flowing and move onto my my eats from yesterday.  Holy YUM, yesterday was apparently a day full of salty + sweet and lots of tastiness – I ate at least one thing at every meal that made me wonder why I haven't eaten ___ before.  All new eats are noted with an asterisk*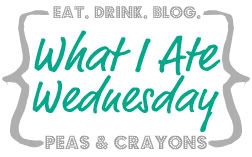 Thanks Jenn for hosting another tasty link-up!
I grew up drinking Folgers brand because my dad was a big fan, but nowadays my heart belongs elsewhere – the best part of waking up is Starbucks in your cup!
TJ's frozen Very Chery Berry blend, egg whites stuffed with mozzarella cheese + Canadian Bacon*, & a TJ's Cranberry Orange Bran Muffin smothered with honey
fresh veggies, Kettle Brand Bakes Sea Salt Chips, a banana, & a CranBran VitaTop*
wafflewich* FTW [for the win] – dijon mustard + mashed avocado + honey smoked turkey sandwiched between Van's Waffles
apple slices & an Odwalla Super Protein Bar
veggie-filled salad, Williams-Sonoma butternut squash puree* [served as soup], & avo tuna salad* on top of rice cakes
rice cakes topped with cocoa cottage cheese + dark chocolate chips
Question:  What's the tastiest thing you've eaten recently?
Question:  If you had to choose one, would you choose N'Sync or the Backstreet Boys?
— Allison