Yesterday I learned a well-known fact – too much caffeine can give you the shakes.  Yes, I am guilty of having one or two too many cups of coffee, but since I woke up at 2:45AM for no apparent reason, I began drinking before the sun came up and continued throughout the morning.  And they weren't my typical decaf.
One cup led to two, three, and more…  And around 2PM I started to feel it.  My toes were tapping, my legs were bouncing, and my fingers were typing like a mad woman.  Thankfully, a lot of people are out of our office this week so no one noticed.
It's been about a week and a half since I've been waking up in the middle of the night and unable to get back to sleep.  Surprisingly though, I don't feel all that tired throughout the day and I'm still in happy spirits.  I definitely have been embracing the old lady lifestyle and going to bed around 9PM or earlier, but that's not anything new.
I'm not stressed but I do have a few things on my mind so that could have something to do with it.  Or maybe my body truly doesn't need more than 6 hours of sleep right now?  Either way, I have an appointment with my rheumatologist this afternoon and will ask him.  Maybe he'll have some insight?!
Moving onto Wednesday's traditional theme: my [Tuesday] eats.  Let me preface my pictures by saying that my yesterday's eats were nothing to brag about.  Breakfast was satisfying, lunch was random, and dinner was no-fuss.  We all have those kinda days on occasion and I had mine yesterday.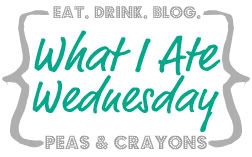 Thanks Jenn for hosting another tasty link-up!
breakfast
frozen berries, turkey breakfast sausages, & oat flour pancakes topped with sweetened cottage cheese + crunchy peanut butter + raisins
lunch
yellow bell pepper slices, a grapefruit, tortilla chips + animal crackers, & a pita stuffed with dijon mustard + arugula + Dr. Praeger's California Veggie Burger
snack
an apple & a Clif Mojo Mountain Mix Bar
workout
Monday morning my back felt better so I went for a run but shouldn't have – I didn't have any pain during the run, but later that night it began hurting again.  Yesterday my back felt better but I didn't want to push it again so I took it easy on the elliptical…  Something is always better than nothing!
dinner
an unpictured veggie-filled salad & whole wheat spaghetti with chicken sausage + tomato sauce + parm cheese
dessert
a bowl of Joe's O's with Greek yogurt + dark chocolate chips
P.S.  We received this in the mail yesterday…  I think the hospital is more ready than Ryan or I am for our family to grow!
Question:  Coffee or tea?  What are your typical mix-ins?
Question:  When you can't sleep, what do you do?  Watch TV?  Go on the computer?

— Allison