First, the Bestowed giveaway winner is…
Wahoo congrats Debbie!  Please send me an email at lifesabowlblog@gmail.com with your shipping address and I'll pass it along so you can get your box.  And for the rest of y'all, you're in luck because Bestowed kindly has offered you $5 off of your first box using code 5OFFBESTOWED01 – so really everybody's a winner 😉
Secondly, I should clarify a few things from yesterday's Two Words Tuesday post…
I'm picking my car up after work today.  I really am a good driver – the only ticket I've gotten was for a trash violation when I was living in Boston and I disputed it.  The ticket was eventually revoked…  But that's a whole other story.
The "BE EPIC" tank was free when I originally signed up for pv.body.  I ultimately unsubscribed from their monthly when they switched over to Ellie.
It would be really cool to complete a tri one day but that one day was not over the weekend, I just happened to pass by it on my run.
I didn't purchase any of the bacon products from World Market, but your suggestions of adding the syrup to a cappuccino or into pancakes are quite intriguing.  Maybe I should have bought a bottle?
Anddd thirdly, moving onto Wednesday's traditional theme: my Tuesday eats…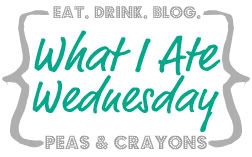 Thanks Jenn for hosting another tasty link-up!
frozen berries, turkey bacon, & Kodiak Cakes topped with cottage cheese + strawberry preserves + crunchy almond butter
Saturday's race forecast is looking super hot & super humid so I'm focusing on staying hydrated this week
veggies, a grapefruit, pretzels, & turkey wraps with TJ's Greek Yogurt Guac + broccoli slaw [repeat offender]
Chobani Strawberry Sunrise Flip – unfortunately I wasn't flippin' in love with this flavor
an apple & cottage cheese + Silk Vanilla Soymilk mixed with Kashi Go Lean + Joe's O's
last night we went to our 2nd baseball game in 3 days – the game got delayed due to thunderstorms so we grabbed drinks with friends at a local restaurant & waited for it to pass over
the calm after the storm is always beautiful
Whole Foods salad bar, a ham + cheese sandwich, & salt + pepper potato chips
cereal topped with shredded unsweetened coconut + Silk Vanilla Soymilk
Question:  How do you make sure to stay hydrated?
Question:  What has the weather been like lately in your part of the world?
— Allison