The trend has continued – a WIAW[ednesday] posted a day late.  My intentions are there but my follow-through is…  Missing.  Whomp, whomp.  Nevertheless, my eats recently have been tasty thanks to a few new products and combos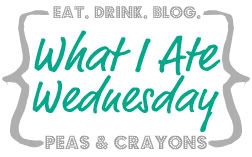 Thanks Jenn for hosting another tasty link-up!
Cinnamon Vanilla French Toast
Ingredients:
2 egg whites
1/4 cup Silk Light Vanilla Soymilk
stevia *to taste*
cinnamon
Directions:
Whisk all of the ingredients in a medium bowl.  Dip individual slices of bread into the batter to coat each side.  Cook for approximately 2 minutes and flip to cook the second side for another 1-2 minutes or until light brown.  Stack and serve with your favorite toppings!  Makes about 3 slices.

topped with cottage cheese + TJs High Fiber Cereal + Earth Balance Crunchy Coconut & Peanut Spread + TJs Super Fruit Spread
served with green grapes
a very green salad & a ruby red grapefruit
Avocado Chipotle Wrap
whole grain wrap stuffed with spinach + bell pepper strips + TJs Chipotle Pepper Hummus + sliced avocado
served with TJs Inner Peas + TJs Ginger Cats
3-Ingredient PB&J Trail Mix
TJs Joe's O's + lightly salted peanuts + raisins
*you could substitute any favorite cereal, I just used what we had in the pantry*

served with apple slices
quick cooking tip: nuke the sweet potatoes in the microwave until tender before tossing them into a greased skillet
The Fluffiest Scrambled Eggs
1 whole egg + 1 egg white + 1/4 cup cottage cheese + a dash of salt & pepper
Whisk all of the ingredients in a medium bowl.  Pour the batter into a greased pan and cover with a lid so the eggs can cook through.  When the eggs appear to be set on the bottom, fold in half like an omelet and cook for another minute on each side.  Serve as is or top with a shot of hot sauce + salsa [added after the picture].

served with a salad, sweet potatoes, & avocado toast
P.S.  I hope that y'all have a fabulously fun, safe, and tasty 4th of July!
Question:  Whatcha doing today to celebrate the 4th?  Going to the beach?  Staying local?  BBQing?

Question:  What's your favorite red, white, and blue recipe?
— Allison