I've got a feeling that today is going to be very…  Interesting?  School is delayed two hours and yesterday we were supposed to have a FLE (Family Life Education) lesson in the morning and attend a strings concert in the afternoon.  I suspect that both of those "special" activities will be rescheduled for today, meaning I'll be trading discussions about multiplication and the solar system for hilariously awkward chats about human anatomy and listening to classical music.  Winning or losing?
When it comes to sharing recipes I'm bad.  I'm bad because:
a) I don't usually follow recipes.  Rather, I mix this and that to create something that sounds good to both Ryan and me.  This is also why I don't meal plan, our minds change by the minute.
b) I don't usually measure ingredients, which makes it hard for me to recreate dishes.
c) I don't usually write down ingredients/amount of ingredients/the cooking procedure.
That said, in 2014 I'd love to try to change.  Key word: try.  I'm not promising anything, but for the sake of sharing more recipes on LAB, having tastier WIAW posts, and for my own good, I'm going to try to make more of an effort to write down my recipes and to use the cookbooks that are gathering dust on our bookshelves.
via Peas & Crayons
It's an excuse, but the main reason that I don't write down recipes is because I'm usually ravenous by the time I step foot into the kitchen and all I wanna do is eat, not write.  In the morning I have more time (hence, why I bombard y'all with breakfast recipes), but dinner is usually made immediately when I get home from work/the gym and both Ryan and I are hungry.  But remember my 2014 mantra?  Make it happen.  So that's what I'll try to do.
Since this is my first WIAW post of 2014, I'd like to clean out the 2013 clutter – pictures of recipes that I planned to share but…  Never did.  If y'all are interested in any of them, let me know in the comments below and I'd be happy to try to recreate all or none of them!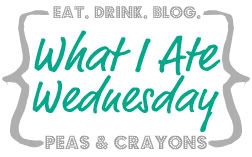 Thanks Jenn for hosting another tasty link-up!
Question:  Do you prefer using a recipe or creating your own?
Question:  Where do you find your food inspiration?  Blogs, cookbooks, referrals from family/friends…
— Allison