Good afternoon y'all!  We have another snow day today – just as the weatherman foretasted, the snow started falling late morning yesterday and continued through the evening.  It's not snowing today, but the temperatures are bitterly cold – it currently feels like -15*F with the windchill!
scenes from yesterday
scenes from this morning

Enough snow talk.  Moving on…  Onto food, specifically my eats from yesterday.  I planned to make meatloaf for dinner (I've had an intense craving for meatloaf for days!) but the ground turkey that I took out of the freezer didn't fully defrost.  I know that I could have put it under warm water to quickly defrost, but I was too caught up watching One Tree Hill so I decided to save it for dinner tonight.  No worries, I have three, yes THREE, recipes to share today!  That said, I've learned that I'm not a great recipe writer (no big surprise), so if anyone would like to kindly share their recipe writing tips I'd gladly listen!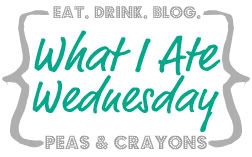 Thanks Jenn for hosting another tasty link-up!
Ingredients (serves 1):
1 espresso pod (or you could grind your own espresso or use instant granules)
Water (enough to fill the reservoir)
1/2 cup Silk Light Vanilla Soymilk (or your favorite milk)
1 tsp. molasses
Cinnamon
Stevia
Directions:
First, froth the milk.  There are a few different ways to do this…
– If using a Rivo System (or similar machine), the machine will essentially do all of the work for you.  Just be sure to choose the cappuccino setting, not the latte.  The machine will beep once the milk is frothed.
– If using a steam wand, be sure that the wand is pushed down fully into the pitcher – if the wand is too high, large bubbles may form.  Slowly lower the pitcher as the milk rises in order to keep the tip just below the surface.  The milk is finished when the temperature reaches approximately 145*F.
– If using a handheld frother, warm the milk in the microwave for 20 seconds.  Make sure the glass/mug is microwavable!  Transfer the milk to a pitcher and hold the frother close to the bottom, slightly angled.  Turn the frother on and begin swirling it around, alternating between high and low.  The milk will quickly start to thicken and small peaks will form.
Next, brew the espresso.  I make a double shot because of the size of my coffee mugs, but it's up to you if you want a single or double shot.  Traditionally, a cappuccino is 1/3 espresso, 1/3 steamed milk, and 1/3 foamed milk.  Pour 1/2 tsp. of molasses, cinnamon, and stevia (to taste) into the espresso.
While the espresso is brewing the milk should separate, the foam will float to the top and the steamed milk will settle on the bottom.  Slowly pour the milk into the cup of espresso – the steamed milk will pour first and the foam will follow.  Top with the remaining 1/2 tsp. of molasses.
Note:  I use a Keurig Rivo Cappuccino & Latte Brewing System, but a handheld frother works wonderfully too!  Handheld frothers are fairly cheap ($10-20), are easy to find (Amazon.com/Crate & Barrel/Bed, Bath & Beyond), and require two AA batteries.  I used one before I received the Rivo System.
Ingredients (serves 1):
1/2 cup quick cooking oats
2 cups water (this is more than the recommended amount, more water = super fluffy oats!)
1 – 2 tbsp. raisins
1 tsp. cinnamon
1 – 2 tsp. brown sugar
Directions:
In a medium saucepan, add all of the ingredients and stir to combine.  Bring oats to a boil and reduce the heat to a simmer.  Occasionally stir the oats, scraping down the sides.  Cook for approximately 5 to 7 minutes or until desired doneness.  Top with your favorite toppings.
Note:  My favorite oatmeal toppings include: cottage cheese, Greek yogurt, fresh and/or dried fruit, nut butters, cereal or granola, and a splash of milk.
Ingredients (serves 1):
1/2 cup Harvest Hodgepodge (it's a frozen veggie blend from Trader Joe's, but you could use any blend)
Worcestershire sauce
2+ tbsp. shredded Mexican cheese
2 rice cakes
2 sunny side up eggs
Salt + pepper *optional*
Hot sauce *optional*
Directions:
Coat a medium skillet with nonstick cooking spray and place on medium heat.  Add the frozen veggies to the skillet.  Once the veggies are cooked, add a few splashes of Worcestershire sauce and stir.  Cook until all of the liquid is absorbed.  Remove the veggies and distribute evenly among the rice cakes.  Sprinkle with Mexican cheese.
Place the skillet back onto the burner.  If the skillet is sticky from the Worcestershire sauce add a second coating of nonstick cooking spray.  Crack eggs into the skillet.  When the whites start to turn opaque, cover the eggs with a lid – the lid helps the whites to cook thoroughly while the yolk stays runny.
A thin white layer will form on top of the yolk and indicates that the eggs are done.  Place an egg on top of each rice cake and sprinkle with salt + pepper and add a dash of hot sauce.
Note:  I know that a lot of people love to hate rice cakes more than they love to eat them (my husband included).  You can easily swap the rice cakes for toast, an English muffin, potatoes, or skip the carbs all together.
celery sticks + salsa, a grapefruit, & pretzels on the side
an apple & Brown Bag Popcorn with sunflower seeds for an afternoon snack
veggies, veggies, & more veggies
chicken potsticker soup & a buttered English muffin
Joe's O's with vanilla bean ice cream
Question:  Does anyone else think that those Brussels sprouts look like alien heads?
Question:  Do you butter your bread?  I don't usually becuase my stomach doesn't do well with butter, but sometimes nothing sounds better than buttered toast (or pasta).  We use Earth Balance butter and my stomach seems to do well with that.

— Allison