Hey y'all, happy Wednesday!  I'm home sick today and have spent the past 30+ minutes scrolling through Eric Stonestreet's (Cam from Modern Family) Instagram account – I'm laughing out loud, he's hilarious!
I started feeling crappy over the weekend, Monday I felt refreshed and rejuvenated, but then yesterday it came back…  With vengeance.  My head aches, I feel nauseous off-and-on, and I have a strange spotty red rash that starts on my right hand, travels up my arm, and spreads over the trunk of my body (front and back, but only on my right side).  Ooof.
I went to the doctor after school yesterday and he thinks I caught a virus, but the rash threw him for a loop.  He wrote me two prescriptions and I scheduled an appointment with my rheumatologist for next week.  Today is a cuddle on the couch, movie marathon, comfort food, kinda day…  Don't feel sorry, I'm hoping that it goes away just as quickly as it came!
I always feel awkward in the "open in the back" gowns, but it gets even worse: paper belly shirts
Yesterday I was a bad blogger and only took pictures of my breakfast.  But you're not missing much because most of my eats were pretty plain, brown, and unexciting.
Breakfast:  homemade vanilla cappuccino, apple slices, & vegan pancakes topped with cottage cheese + sunflower seeds + dark chocolate morsels *the pancakes were good, but not worth sharing (yet)*

Lunch:  a grapefruit, carrots, P28 Bagel with strawberry jam, & pretzels
Snack:  chamomile tea, a banana & Peanut Honey Pretzel Luna Bar
Dinner:  stir-fried veggies & cinnamon oatmeal topped with cottage cheese + Rice Krispies + butter(s)

Dessert:  rice cakes with Greek yogurt
Butter on oats?  Yup.  It was magical!  I don't usually use butter, but I crave it when I'm sick.  Buttered toast, buttered noodles, and then last night's first-timer…  Buttered oatmeal.  I cooked the oats as I normally do, topped them with a few spoonfuls of cottage cheese, Rice Krispies, about 1/2 tbsp of peanut butter, and 1/2 tbsp Earth Balance butter.  The butter melted into the Rice Krispies and covered the oats – it tasted deliciously sinful.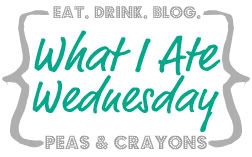 Thanks Jenn for hosting another tasty link-up!
Question:  Do you add honey and/or milk to your tea?  I prefer my tea plain or with just a little sugar and a drop of milk.  Ryan prefers adding honey, but that's "not my cup of tea"  😉

Question:  What's your favorite buttery dish?  Buttered toast with strawberry jam.

— Allison